UBIC Version-10
UBIC Version 10 is here and well worth the wait. In addition to a brand new look, UBIC is displayed in 1024 x 768 resolution. This gives you an expanded view and more information on the screen.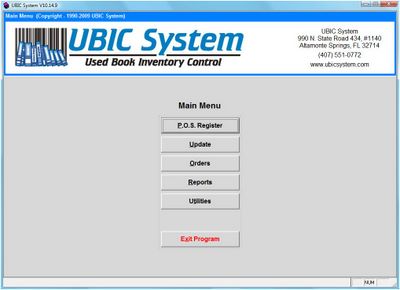 New Features
E-mail and web search features makes UBIC more versatile and saves you time.
Track inventory by individual ISBN within a single record.
Color coding for quick recognition of the screen and/or information.
Download inventory or reserve lists to your PDA.
Keep track of books on loan to employees or customers.
View reserves that have been canceled.
Print customer address labels on Cognitive label printer.
Merge duplicate customer records.
A variety of new fields have been added to the inventory records.
Improved Features
Monthly Update
Void/Refund Transactions
Generate Reorder
Reserve Lists
Customer Reading History
Upgrade to UBIC Version-10 today. Contact us for special discounted pricing for current UBIC users: info@ubicsystem.com